History in a nutshell
Beautiful cities
Nature
Traces of multicultural and multireligious past; on the crossroads of cultures and religions
Cultural events
Polish crafts
Polish cuisine
Religious festivals. Famous pilgrimage sites. Beautiful shrines
'Our Pope's' (late John Paul II's) homeland
Second World War Memorials
Holocaust Memorials
UNESCO sites in Poland

History in a nutshell
Poland is a country with over 1000 years of history. The history and the present were marked by a number of events (good and bad) which contributed to Poland of the present time.
Accepting Christianity (966), coronation of the first king (1025), wars with the Teutonic Knights (the most important one in 1410), signing the treaty forming the Commonwealth of Poland and Grand Duchy of Lithuania (1569), participation of the Polish king in the relief of Vienna (1683), royal elections putting on the Polish throne among other in the first part of XVIII century Saxon electors, partitions of Poland ending the existence of the country in 1795, time of non existence of Poland until 1918, creation of the second republic (1918), gluing 3 pieces together for which process there was not enough time, the second world war (1939-45), fall under the control of the communists, times of the communist regime , fall of communism in Poland and Central Europe, building a democratic state (with almost 500 years of tradition of democracy) again, joining European Union in May 2004 are only the most important events in the history of the country and the nation proud of its heritage and history.
Of course there were many more important events which shaped our attitudes, thoughts, history, nation. It is impossible to name them all.
It is possible however to learn more travelling through Poland.
First time travelers will probably visit Warsaw (Warszawa) and Cracow (Krakow) plus the museum of Concentration and Extermination Camp Auschwitz. For those who have done that there are many themes and paths waiting to help them discover amazing Poland. Here are some suggestions.
Warszawa (Warsaw) is the capital of Poland. Some people find it nice and even beautiful but it was almost completely destroyed during the war so it has not preserved the original character. It is worth a visit of course and it is a must if you want to understand the country. To learn more about this city chose 'Warsaw' from the menu.
But there are other interesting cities in Poland, too.
Krakow (Cracow), probably the most famous city in Poland, offers everything you need, old and interesting buildings and monuments, wonderful museums (the only painting by da Vinci in Poland is in one of them!), beautiful churches, Kazimierz - the Jewish district, a range of artistic events taking place all year round, multitude of restaurants but above all a wonderful atmosphere which makes the city attracitve to travellers from Poland and all over the world.
It is also great for souvenir shopping. It rivals the cities on the coast for the selection and design of amber jewellery.
Don't be surprised if you meet your next door neighbour sitting at the table next to yours in one of the restaurants surrounding the market square.
There are 2 sites which are frequently visited from Krakow: the Museum of Concentration and Extermination Camp Auschwitz (a UNESCO site) and the Salt Mine of Wieliczka (a UNESCO site).
However, there are plenty of interesting places to visit around Krakow and the drive to the highest mountains of Poland (the Tatras) is only 2 hours.
Torun is almost half way between Warsaw and the Baltic coast. It is beautifully located on the Vistula. It has if not the most beautiful (among the Polish cities) panoramic view from the river front. During its rich history it belonged to several countries; primarily it was (in the old times) a port on the Vistula, managing transport of grain to the port of Gdańsk. Here Nicolaus Copernicus was born.
Today it is still very famous also for the gingerbread of Torun. It preserved the character of a medieval city. For this it was listed on the UNESCO list of World Heritage in 1997.
Gdansk is a beautiful city on the Baltic. It was heavily damaged during the Second World war but the old town was beautifully restored. Although today the port is not where it used to be in the past times, beautiful houses remind us about how full of merchants and trade and how rich and prominent this city once was and is today. The architecture reminds us about the Dutch mennonite architects and decorators who influenced the looks of the city in 16th and 17th centuries. Gdansk in more recent history became famous for the birth of the 'Solidarity' movement (which celebrated 25 years in 2005). Former president of Poland and the leader of the movement, Lech Walesa, still lives there.
Every August there is the famous Dominican Fair organized along the narrow streets of the old town (Main Town). This is prime time (though it is good any time) to buy amber jewellery and souvenirs!
Wroclaw. By some it can be only located if referred to by its German name: Breslau. It is a beautiful and vibrant city with a very rich and long history. The historic centre was rebuilt after the war and welcomes all visitors.
Wroclaw has a very multicultral and multitraditional base of which it is very proud. The inhabitants of the city feel truly European. The city among all other things boasts the second oldest university in the country (founded in 1702 in the Habsburg times).
Lublin. Little known to any traveller. It is located about 200 km (120 miles) south east of Warsaw. It is a very historic city. It witnessed several events in the Polish history of which we are either very proud or not proud at all. In 1569 this is where a treaty between Poland and Grand Dutchy of Lithuania was signed.
It has a beautiful old town, several restaurants but it is still neglected and rather omitted by travellers. Hopefully it will change. It has a great potential and is an excellent base for exploration of eastern and south-eastern Poland.
The more time you have the smaller scale you can go.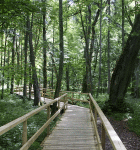 Nature
In Poland you can still find a lot of places untouched by human hand. Among the most famous is the primeval forest of Bialowieza (eastern Poland). It is at the same time one of 23 Polish national parks.
You will probably enjoy winding hills of the north and south and above all the highest rocky mountains (the Tatras) located in the southern Poland. In good weather you will enjoy every part of Poland. For visual effects for sure it is worth coming in spring when among other huge yellow canola fields look very beautiful and attractive.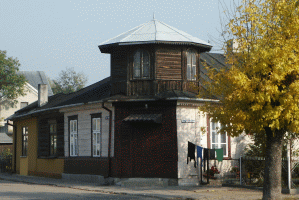 Traces of multicultural past; on the crossroads of cultures and religions
Second World War and subsequent change of the borders, Holocaust and the communist times transformed the Polish society of the past. In today's Poland 92% of citizens declare bond with the Roman-Catholic tradition and religion although in the past times the society was more diverse in religious and cultural sense. However, traces of multicultural and multireligious past are still many and eventually as free society we have become aware of this important heritage. The most interesting part of Poland in this context is south-eastern Poland. However, all over the country there are many sites connected with non existent or small communities which were once vibrant and full of life: synagogues and old Jewish cemeteries (active, converted to museums, still in ruins) - on some of them you will still find graves of famous Hassidim tzaddiks; abandoned old uniate (Greek-Catholic) churches and active new ones; Orthodox churches, cemeteries, pilgrimage sites; Tartar mosques; Karaim cemeteries; Mennonite cemeteries and places where the brethren lived in the past.
It can be especially important and meaningful if your family came from any of those backgrounds and has roots in Poland.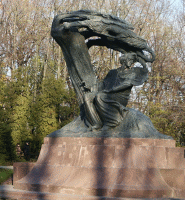 Cultural events
Polish cultural scene is dominated by various music events. The biggest names connected with Poland are Frederic Chopin - who lived in 19th century Warsaw and of the present time Krzysztof Penderecki i Henryk Gorecki. We have a number of professional music institutions (opera houses, philharmonic halls) in big cities but also many smaller concert venues all over the country. The best time is spring, summer and early autumn. Chopin recitals are very popular in Warsaw. All churches which have good (sometimes famous) organs organize summer organ festivals. In Krakow every year now the Festival of Jewish Culture is organized. It attracts artists from the country and abroad. Jazz is also very popular in Poland and there are a number of jazz events all over the country.
If you are more into modern approach to music you will also find something to suit your taste: clubs with concerts or performances every night.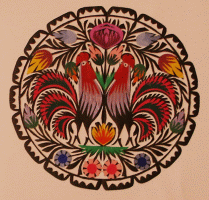 Polish crafts
The art of craftsmanship still exists in Poland and all over Poland. Everywhere you go you will probably find somebody making pottery, embroidery etc. But there are several regions very famous for crafts. Lowicz (a small town near Warsaw) is famous for colorful paper cut-outs which are many layers and depict various patterns (mainly floral and animal) or scenes of country life of the past. Another big craft is embroidery, probably the most famous and easiest to recognize are the designs coming from Kashubia (Kaszuby). They have very characteristic colors (blues, green, yellow, red and black) taken from the surrounding nature. Another not unique to Poland but very beautiful craft is painting on glass. The most famous examples come from Zakopane but you can find painters on glass in other parts of Poland, too.
Krakow still preserves tradition of Christmas creches making. Every year in the beginning of December the city organizes a competition in which everybody can participate! All pieces are shown in the market square in the open air presentation and the winning creches are exhibited in the Historical Museum.
Top of page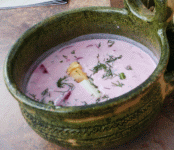 Polish cuisine
Pierogi, bigos, kiełbasa, barszcz czerwony, pyzy, flaki, golonka, kaszanka, gołąbki, zupa grzybowa, oscypek etc. This is all very rich and very tasty Polish food. Some dishes are all year round, they have some variations available in season. If you want to try these dishes, you really have to come to Poland.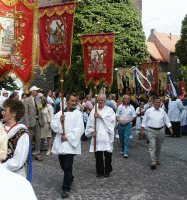 Religious festivals. Famous pilgrimage sites. Beautiful shrines.
To see how old traditions are still preserved you should travel to small towns and villages, sometimes to sanctuaries which are however located outside big towns. Easter is probably the time around which you can see a lot: palm competitions on/for Palm Sunday; Easter Saturday food blessing (everybody carries their own basket with eggs and other foods); mystery plays of the Holy Week. Another interesting tradition are Corpus Christi processions which fall in May or June They are very colorful and sometimes spectacular. In Cracow the tradition of the procession goes back to 1320.
There are many pilgrimage centers in Poland. Most of them are connected with veneration of Our Lady. The most famous shrine with the famous Black Madonna (Our Lady of Jasna Gora) is in Czestochowa.
It is interesting to be in Poland (anywhere in Poland) on November 1 which is the day of All Saints. In the Polish tradition this is the day when we visit cemeteries and graves of our family, friends, people who died fighting for Poland. All graves are beautifully decorated, all have candles - it is a sad yet a very peaceful and meaningful time.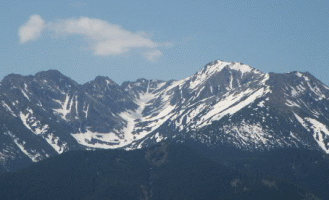 Our Pope's homeland
Karol Wojtyla (late John Paul II) was born in a small town, Wadowice, near Krakow. This is for sure an important place to visit. Today in the former family apartment there is a very interesting photographic exhibition and a few of his private belongings. Next to the house is the church where Karol was baptized. Another important place to visit is Krakow. There are many places connected with Karol Wojtyla there, one of them is the Archbishops' Palace where the famous window from which John Paul II talked to people during his pilgrimages to the fatherland is. Another important place in Krakow is the basilica of Lagiewniki, the last church consecrated by John Paul II in Poland. If you have more time you can travel to the Tatras, namely to Zakopane. These highest mountains in Poland where often visited by Karol Wojtyla. But maybe you will like to visit there the sanctuary of Our Lady of Fatima which was built as a votive offering for saved life of the Pope after the assassination attempt in the beginning of his papacy.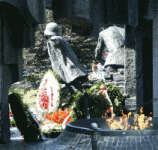 Second World War Memorials
Poland has today thousands of places commemorating numerous victims of the Second World War. Poland lost in that war 6 million people (20% of the total population), 50% were Polish Jews, 50% were Poles. Warsaw where 2 uprisings were organized (1943, 1944) was on order raised to the ground. In the capital alone there are several hundred sites commemorating victims of the war, innocent victims but also members of the resistance, fighters for independence in those times. Probably all these sites today have plaques or monuments. Often you can see candles and flowers. Polish people until the present time remember all who perished in the war.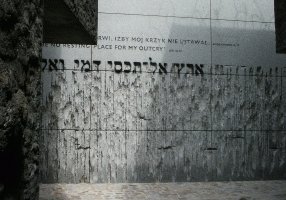 Holocaust Memorials
Holocaust memorials commemorate places of mass killings of the Jewish people (from Poland and other European countries) during the Second World War on the territory of Poland which was then under Nazi occupation or was incorporated into the Third Reich. They include: sites of extermination and death camps [Treblinka, Belzec, Sobibor, Majdanek, Auschwitz etc.] - some have museum exhibitions today to educate visitors about those times and events; sites of group extermination in forests and small villages; cemeteries with mass and individual graves. Many of these places are far away from the bitten track. It is very important to visit at least one such site during your time in Poland. Because of the symbolism and easy connection from Krakow travelers choose to visit the Museum of KL Auschwitz.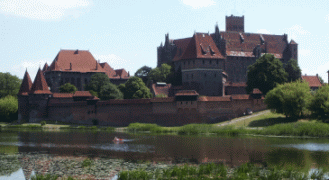 UNESCO sites in Poland
Cracow's Historic Center (from 1978)
Wieliczka Salt Mine (from 1978)
Auschwitz Concentration Camp (from 1979)
Historic Center of Warsaw (from 1980)
Old City of Zamość (from 1992)
Medieval Town of Toruń (from 1997)
Castle of the Teutonic Order in Malbork (from 1997)
Kalwaria Zebrzydowska - the Mannerist Architectural and Park Landscape Complex and Pilgrimage Park (from 1999)
Churches of Peace in Jawor and Świdnica (from 2001)
5 Wooden Churches of Southern Little Poland (from 2003)